Tuscany Private Estate - LOCATION
Tuscany Private Estate is located at Upper Mckinley Road, Mckinley Hill, Taguig City, Metro Manila.

Tuscany Private Estate is a low-rise condominium situated in McKinley Hill in Fort Bonifacio, Taguig. The address itself is enough to make interested condo buyers take notice. Taguig is one of the most urbanized cities in Metro Manila. It is an industrial, corporate, and commercial hub. For this reason, Taguig features a vibrant atmosphere and a busy streetscape as there are businesses at literally every corner of the street.
Tuscany Private Estate and its location in Taguig City are like a match made in heaven. This is one of the most prized projects from Megaworld Corporation. McKinley Hill is a large township in Fort Bonifacio, which is a former military base. MicKinley Hill is also a project of Megaworld Corporation. All of the townships within this community are inspired by famous cities in Spain or Italy. Hence, you will notice that these condominiums feature Mediterranean-inspired architecture and concept to them. And Tuscany Private Estate is one of those communities.
Since Tuscany Private Estate is located within the residential village and township project of McKinley Hill, you will enjoy the convenience of being surrounded with facilities and establishments to support your basic needs. The Venice Grand Canal, for instance, is a popular mall or shopping center located within McKinley Hill. It is a popular tourist attraction as the mall features the first man-made canal with its own Gondola rides. Hence, you will feel like you are in Venice when in fact you are simply inside a mall in Taguig. This mall is also filled with many high-end or local shops and a range of restaurants to satisfy your craving for a foreign cuisine. Some of the most notable restaurants within Venice Grand Canal Mall are Ramen Kuroda (Japanese), Toni & Sergio (Italian and Spanish), Chiara's Gelateria (Italian desserts), TGIFriday's (American and Mexican), and more. Aside from the restaurants, Venice Grand Canal Mall also features its own cinema, entertainment destinations, and shops.
The array of lifestyle choices near Tuscany Private Estate is not only limited within the village of McKinley Hill. There are also several options within Fort Bonifacio in Taguig, such as SM Aura Premier, Bonifacio High Street, Greenbelt Mall, and Mercato Centrale (weekend market).
For those seeking out an active lifestyle, McKinley Hill contains the McKinley Hill stadium. This is a FIFA-certified football ground that spans over 15,000 square meters in land area. Meanwhile, this village has its own PEZA-accredited cyber and business park. The office buildings within this park are certified as the first LEED Gold-Certified building in the Philippines. These buildings are currently being used by BPO companies as office and corporate headquarters.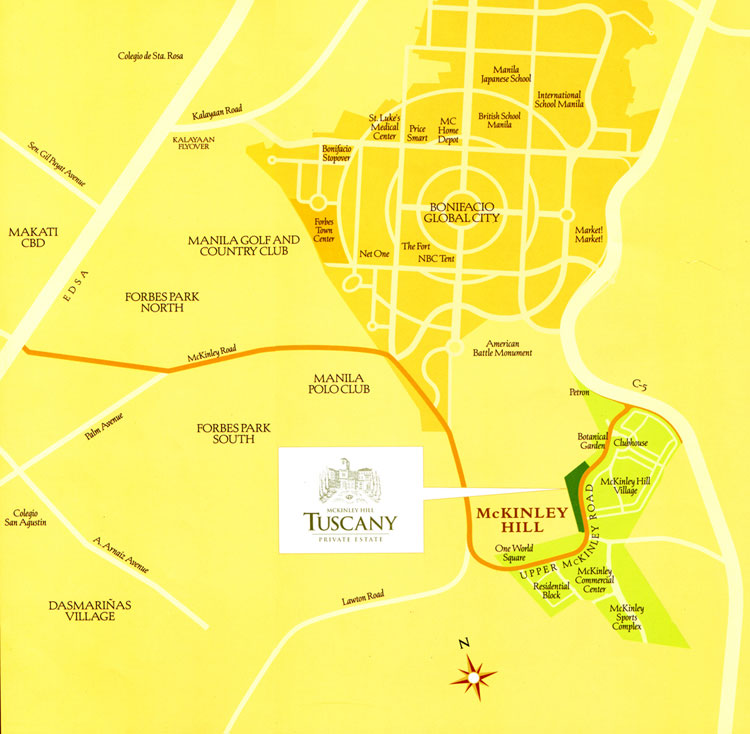 For those residents looking to explore outside of the McKinley Hill village without compromising on convenience, there are a few nearby attractions from Tuscany Private Estate as well. You can jog or have a picnic at Greenbelt Park or Ayala Triangle Gardens, go shopping at One Bonifacio High Street Park, shop or dine at Serendra, or play at Resorts World Manila. Your lifestyle opportunities are endless here!